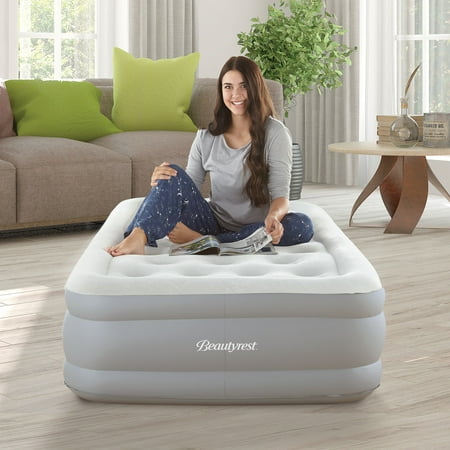 Mattresses are a major contributing factor in how well one sleeps. The market avails various kinds of mattresses, all with varying features. In this article, we will focus on air mattresses and how you can benefit from the ultimate comfort offered by these mattresses.
Recent studies have shown that the benefits of a good night's sleep go beyond simply resting. There are also health benefits linked to sleeping well. Getting a suitable mattress is, therefore, a crucial factor.What if one could have a mattress with variable firmness? Perhaps this is the question the innovators of air mattresses had in mind. And their innovation has been an enormous success.
Air mattresses are well sought-after for their versatility, reliability and ultimate comfort. In this post, we will discuss what an air mattress is and why you need them. We will also lay out the best air mattresses ever made. Let's do this.
Air Mattresses – What Are They?
Air mattresses are inflatable mattresses most of which are made of PVC. When deflated, an air mattress can be folded compactly for easy storage –they are popular for camping and temporary use at home for this reason.
An air mattress can be inflated by either a manual foot-powered pump or an electric pump. They are inflated through a valve. Some of the air mattresses have built-in pumps. In order to achieve the desired firmness, users can vary the level of pressure by inflating and deflating the mattress.
Air mattresses can be used for camping and temporary use at home when you have guests. The can also be put in permanent use in the bedroom.
Air mattresses are quite versatile – an air mattress that can be used for camping can also be used for temporary home use. Different air mattresses have different designs, weights, and sizes.

Some air mattresses are designed for use in car backseats. Such mattresses can fit perfectly in the backseat of a car and kids, adults or pets can sleep on them comfortably as the car moves.
Air mattresses that are small-sized and relatively lightweight are referred to as sleeping pads. These kind are meant for camping and backpacking.

Some air mattresses are referred to as airbeds, and they look like conventional beds. They are meant for permanent use in homes and can be of varying sizes ranging from twin size to king size. They are elevated from the ground and have high-quality air chambers. They have a hose or hoses near the head of the bed. Each hose serves an air chamber. Airbeds can have one or two air chambers. If an airbed has two air chambers, it means that the two sides of the mattress can be inflated to different levels of firmness depending on the individual needs of two people.

Some air mattresses are designed for use on hospital beds. Such air mattresses may help alleviate sores and ulcers that occur due to extended bed rest. The air mattresses also help in promoting better blood circulation in patients and in relieving pressure points.
Why Do I need Air Mattress?

Air mattresses can serve you in multiple ways.
Camping and outdoor use
Due to their compactness when deflated, air mattresses are easy to store and transport. This makes them the perfect choice of mattresses when going camping or traveling.
Temporary home use
Air mattresses can be very useful when you have guests at your home. This is because they can offer comfort to your guests by simply inflating them. They can then be stored conveniently after use when you deflate them.

For use in car backseat
When traveling for long distances, a car backseat air mattress can be the perfect comfort solution. It can be spread on the backseat and inflated to offer a very comfy sleeping surface.
Health Benefits
Air mattresses are linked to some health benefits. Due to their enhanced comfort, these mattresses help users have a better night's sleep which is good for their health. The firmness of air mattresses can be adjusted to the desired level for maximum comfort which helps users relax while sleeping. Air mattresses can help users achieve an optimal sleeping posture that can help in better spinal alignment.

Flexibility
You can adjust the firmness of an air mattress by inflating and deflating it to make it suitable for people of different sizes and weights.
King Koil Luxury Raised Air Mattress with Built-in Pump

This incredible air mattress is made of premium eco-friendly PVC that is puncture-resistant and durable. It is equipped with advanced airbed technology to deliver maximum comfort. Its soft flocking layer soothes the skin while a built-in pillow keeps you in a comfortable posture through the night.
The quilt top of this air mattress is simply incredible – it is extra-thick and waterproof with enhanced spinal support. This makes the mattress perfectly firm for the best sleeping posture. It has a suede top that maintains the bedding in place.
The mattress comes with an extra valve that you can use when traveling or camping. This mattress has a coil-beam construction that provides maximum strength and comfort. It has a 120V AC built-in pump that is highly effective and easy to use. Inflation and deflation of the mattress can be done fast and easy – it can be fully inflated in less than 4 minutes.
The package includes patch kits for the unlikely event that you puncture or tear the mattress. This mattress is highly versatile and can be used for in-home purposes or camping trips. It also offers flexibility since you can vary the level of inflation to achieve your desired comfort level. The Chiropractors Association recommends this mattress for better spinal alignment. The mattress also promotes healthier night's sleep.
What is the Best Air with Mattress with built-in pump for Queen Bed?

SoundAsleep Dream Series Air Mattress


Rediscover your nights with this high-quality air mattress with an internal high-capacity pump. The mattress is craftily designed with ComfortCoil Technology that delivers maximum comfort, desired firmness, and stability. The industry-leading design ensures that you will not experience slipping or sliding as you sleep.
The mattress is equipped with 40 internal air coils that provide support and durability ensuring that your bed remains flat, stable and firm as you sleep soundly. The proprietary one-click pump equipped in this mattress enables fast and easy inflation and deflation – you can fully inflate this mattress in less than 4 minutes, and it stays inflated for days.
You may vary the firmness of the mattress by inflating or deflating until you achieve the most desired comfort level. This is a premium mattress with a dual chamber construction that delivers comfort and reliability. It is adequately sized to offer a large sleeping surface. Your family members or guests will be thrilled to sleep on it. This mattress is made of puncture-resistant premium PVC that makes it durable and reliable. The PVC is in multiple layers to ensure that the mattress doesn't puncture easily. It offers a fantastic sleeping experience.
What is the Best Air Mattress for Twin Bed ?
OlarHike Twin Air Mattress with Built-in Pump

This elevated premium airbed with a flocked top is designed for unmatched comfort. The air mattress is elevated 18 inches from the floor giving it a real bed-like structure. It has a velvety fabric fluffy surface that soothes your skin as you sleep for a super-comfortable sleeping experience.
This elevated blow-up airbed has a unique edge design that prevents you from falling off. The air beam construction with inner coils delivers strength and support ensuring that your mattress will not bulge or sink even after longtime use. The mattress can handle up to 300 pounds. Its double layer welding maintains the airbed's form while the puncture-resistant material ensures that the mattress doesn't get torn easily.
This incredible air mattress has unique wave veins that align with all parts of your body to clear the fatigue as you sleep. This mattress ensures that you relax completely and sleep deeply at night. It has a user-friendly design that accommodates multiple types of bed sheets. The airbed is constructed with an extra-thick PVC underside that eliminates undesired sliding and moving noise when you use the mattress. The mattress is easy to clean.
The built-in pump operates quietly and efficiently to inflate or deflate the mattress quickly. You can achieve your desired firmness in under 5 minutes. It has a built-in compartment where you can safely store the power cable to prevent clutter. It is equipped with an automatic power cut-off that stops any unsupervised inflating and deflating thereby preventing short circuits.
What is the Best Air Mattress for Camping?

Intex Classic Downy Airbed Set with Quick Hand Pump – Queen Size


The luxurious sleeping surface of this air mattress will enhance your sleeping experience. The air mattress comes with two cozy inflatable pillows for enhanced comfort. Its waterproof flocked top provides maximum comfort and also prevents slipping. The flocked top is easy to clean.
The wave beams of the top make your muscles relax for a great night's sleep. The wave beam construction also creates a uniform sleeping surface for maximum comfort. The high-output hand pump is highly effective and gets the inflating done easily and fast.
The pump is easy to use. The double action mechanism inflates the mattress on both up and down strokes of the pump. Achieving the desired firmness can be done conveniently by inflating or deflating. The mattress has a 2-in-1 valve with a wide opening that allows easy and quick inflating and deflating. The mattress is highly compatible with fitted sheets and folds compactly allowing easy storage. This is a sturdy air mattress with a 600-pound capacity. It is adequately sized with a large sleeping surface. It can be cleaned easily using mild soap and water.
What is the Best Air Mattress for Car Backseat?

HAITRAL Car Inflatable Air Mattress

Redefine your backseat resting experience with the HAITRAL air mattress for car backseat. It has two air pillows that are well sized allowing you to achieve the optimal sleeping posture. It is brilliantly sized to fit perfectly in most car backseats.
The mattress is accompanied by a car-powered electric pump that inflates the airbed quickly and easily. With a 12-volt DC power plug to connect the pump to the power outlet, inflation can be done promptly and conveniently. The air mattress is designed to ensure that children, adults or pets can sleep on it safely as the car moves. The air mattress is versatile and can also be used while hiking and camping. This is a wide and comfortable mattress that will serve your comfort needs while on the go.
What is the Best Air Mattress for Hospital Bed?
Vive Alternating Pressure Mattress with Electric Pump System

This air mattress is very helpful in alleviating sores and ulcers that are caused by extended bed rest. The mattress is equipped with an alternating pressure mechanism that enhances blood circulation and helps in keeping skin healthy. The mattress has a brilliant construction that evenly distributes weight thereby relieving pressure spots.
This mattress provides exceptional comfort and support. It is ideal for patients who have difficulties shifting their weight frequently. The mattress is designed with 130 air cells that alternately inflate and deflate creating an even weight distribution that eliminates pressure points in patients. The air cells are heat sealed making them leak-proof for exceptional durability.
The variable pressure pump operates quietly and produces constant airflow. The pump can be used to achieve multiple pressure levels for the most desired experience. The sturdy construction has a high weight capacity of up to 300 lbs. the mattress pad fits easily, and the air hoses are easy to install.
Air mattresses can be used in various ways. They also come in different shapes and forms. When shopping for an air mattress, it is important that you consider your individual needs and situation in order to make a sound decision. Personal preferences will also be a determining factor in purchasing a reliable air mattress.